I've low key been in a book slump since the end of May, which is terrible. But, over the weekend I actually happened to get back in the groove and I'm hoping that means the I've seen the last of this slump! Anyways, I thought it would be a fun way to keep myself accountable, if I shared what books I'm currently working my way through with y'all.
---
Synopsis:
Hollywood powerhouse Jo is photographed making her assistant Emma laugh on the red carpet, and just like that, the tabloids declare them a couple. The so-called scandal couldn't come at a worse time–threatening Emma's promotion and Jo's new movie.
As the gossip spreads, it starts to affect all areas of their lives. Paparazzi are following them outside the office, coworkers are treating them differently, and a "source" is feeding information to the media. But their only comment is "no comment".
With the launch of Jo's film project fast approaching, the two women begin to spend even more time together, getting along famously. Emma seems to have a sixth sense for knowing what Jo needs. And Jo, known for being aloof and outwardly cold, opens up to Emma in a way neither of them expects. They begin to realize the rumor might not be so off base after all…but is acting on the spark between them worth fanning the gossip flames?
Current Thoughts/Why I'm Reading:
I was actually in the middle of this book when my book slump took full force, so unfortunately I let it sit for waaaay to long. But this is the book I picked up over the weekend that renew my reading mood. Something to Talk About is an excellent slowburn queer romance, and it's set in the movie-making industry, so I'm fascinated by all the behind-the-scenes details. Also, Jo is like my favorite character ever. I will probably binge the rest of it before this post even goes live. So, possible review to come?
Synopsis:
Patricia Campbell had always planned for a big life, but after giving up her career as a nurse to marry an ambitious doctor and become a mother, Patricia's life has never felt smaller. The days are long, her kids are ungrateful, her husband is distant, and her to-do list is never really done. The one thing she has to look forward to is her book club, a group of Charleston mothers united only by their love for true-crime and suspenseful fiction. In these meetings, they're more likely to discuss the FBI's recent siege of Waco as much as the ups and downs of marriage and motherhood.
But when an artistic and sensitive stranger moves into the neighborhood, the book club's meetings turn into speculation about the newcomer. Patricia is initially attracted to him, but when some local children go missing, she starts to suspect the newcomer is involved. She begins her own investigation, assuming that he's a Jeffrey Dahmer or Ted Bundy. What she uncovers is far more terrifying, and soon she–and her book club–are the only people standing between the monster they've invited into their homes and their unsuspecting community.
Current Thoughts/Why I'm Reading:
Ooof this is a hard one. I was really wow'd by the synopsis and intrigued by the premise, but like, I often forget I'm really not a fan of horror. So, this is probably going as expected. I reached about 70% and am just not enjoying it, and my library loan expires tonight so it's unlikely that I'll finish it. I was hoping for a book where the women all rally against the big bad vampire etc., and at 70% there's been a 3 year time jump and multiple accusations of delusions. So, most likely going to be a DNF.
Synopsis:
Far too often, Black women's anger has been caricatured into an ugly and destructive force that threatens the civility and social fabric of American democracy. But Cooper shows us that there is more to the story than that. Black women's eloquent rage is what makes Serena Williams such a powerful tennis player. It's what makes Beyoncé's girl power anthems resonate so hard. It's what makes Michelle Obama an icon.
Eloquent rage keeps us all honest and accountable. It reminds women that they don't have to settle for less. When Cooper learned of her grandmother's eloquent rage about love, sex, and marriage in an epic and hilarious front-porch confrontation, her life was changed. And it took another intervention, this time staged by one of her homegirls, to turn Brittney into the fierce feminist she is today. In Brittney Cooper's world, neither mean girls nor fuckboys ever win. But homegirls emerge as heroes. This book argues that ultimately feminism, friendship, and faith in one's own superpowers are all we really need to turn things right side up again.
Current Thoughts/Why I'm Reading:
I'm reading this book with a few of my friends and so far I'm about 25% in. I'm really enjoying it and am excited to get back to it this week. Brittany Cooper herself, narrates the audiobook and she really makes it feel like she's having a conversion with you. I don't read much nonfiction (because I tend to find it kind of dry) but I'm excited to see what Brittany Cooper will publish next.
Lady of the Lake (Witcher #5) by Andrej Spakowski
Synopsis for Blood of Elves (Witcher #1):
For over a century, humans, dwarves, gnomes, and elves have lived together in relative peace. But times have changed, the uneasy peace is over, and now the races are fighting once again. The only good elf, it seems, is a dead elf.
Geralt of Rivia, the cunning assassin known as The Witcher, has been waiting for the birth of a prophesied child. This child has the power to change the world – for good, or for evil.
As the threat of war hangs over the land and the child is hunted for her extraordinary powers, it will become Geralt's responsibility to protect them all – and the Witcher never accepts defeat.
Current Thoughts/Why I'm Reading:
Since March I've been working my way through the Witcher series with my boyfriend, and we've finally reached the "last" book in the series (there's one more but it's a sidequel). I'm excited to have all the questions and magic and weird time stuff explained, well if Spakowski actually deviates from his normal pattern and gives us answers this time. But I'm mostly excited to see all this material get adapted for the Netflix show. Gotta love Henry Cavill.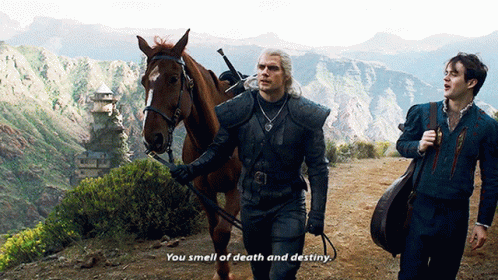 What books are you working on?
xoxo, Bree