We found this tag on Book Cheshire Cat, but it was originally created by The Book Pusher over on booktube, and you can find her video here.
---
Pumpkin Spice Latte:

a book everyone likes to hate on but is delicious

Bree: I feel like I see people hate on The Selection because it's basically dystopian Bachelor, but honestly I love America & Maxon. Their friends-to-loveship is so cute; every reread is a sweet nostalgic treat.

Tree: Serpent & Dove gets a lot of hate, but that novel was just a fun time with a solid romance so no complaints from me! (It does also get a lot of love, just I saw a lot of *very* negative review).
"Fall is my favorite season":

A cliché you can't get enough of

Bree: If I'm being honest, I have a real weakness for the "bad boy with a heart of gold" schtick. Like, hello.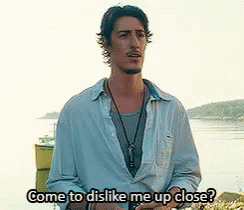 Tree: Romance novels have many clichés and I am here for them like 98% of the time.
Sweater Weather to T-Shirt Weather:

A book you thought was one thing but was completely different by the end

Bree: It has to be All the Stars and Teeth by Adalyn Grace. For some reason I was completely convinced this book was about mermaids/mermaid daughters/mermaid princesses?? But it honestly reminded be a lot of House of Salt and Sorrow, but if they went on a ship journey instead of to enchanted balls.

Tree: The 57 Bus by Dashka Slater because I did not realize it was nonfiction even though it says that on the title. This is such a powerful read and I am so glad I ended up reading it. Read my review here.
"Spoops":

Do you have a spooky book on your tbr?

Bree: One by One & Mexican Gothic are both hovering at the top of my TBR right now. I'm also hoping to sneak in a reread of A Good Girl's Guide to Murder while I'm at it.

Tree: Mexican Gothic & Plain Bad Heroines are probably the only spooky books I hope to get to anytime soon.
Tarot Reading:

A five-star prediction

Bree: I'm just going to go ahead and say How the King of Elfhame Learned to Hate Stories because I am Jude & Cardan trash, and it's very unlikely that I won't love this book.

Tree: I have no idea…Five star books usually tend to take me by surprise unless they are one of my favorite authors. I have high hopes for First Comes Like by Alisha Rai, An Emotion of Great Delight by Tahereh Mafi, & The Underground Railroad by Colson Whitehead.
Sephora Sage + Crystal Set:

A book that meant well but missed the mark by a landslide

Bree: For me Spellbook of the Lost and Found by Moïra Fowley-Doyle, was a well-intentioned hot, hot mess. The premise is fascinatingly witchy, but the book fails to explain anything that happens and the characters are happy to continue on like nothing ever happened? Without answers??

Tree: A lot of people have been hyping Shipped by Angie Hockman, but it just did not work for me. I could not get behind the main character's actions at all and thought the author tried to do too much, which resulted in a bit of chaos at the end. I didn't *hate* it and I did finish it, but I wanted a different story from this premise. I talk about it a bit more in my ARC August wrap up here if you are interested.

Happy reading!

xoxo, Bree & Tree