You ever have a book or a tv show that comes into your life at the exact right moment and then sort of take over your life? Well that is what Julie and the Phantoms did to me. I've read the fan fiction, I've seen the memes, I have a DM group with some bookstagrammers where we fangirl, etc. JATP is a Netflix show that follows Julie and three ghosts while they form a band. It is hard to explain, but this show is legit one of my favorite things that came out of 2020 and I need a season 2 desperately. 
I saw this tag while searching Julie and the Phantoms on Twitter (don't judge lol) and it was created by Meeghan and her friend Sarah. Here is the original blog post & here is Sarah's BookTube channel.
Lowkey could probably answer all of the prompts with all the different fan fictions I've been reading. 
PSA: If my answers come off a big unhinged just know I wrote this while drinking a massive coffee + freaking out about the NEW TAYLOR SWIFT ALBUM + Julie & the Phantoms makes me a bit unhinged + I'm rewatching Star Wars which always puts me in a weird headspace. 
---
NOW OR NEVER
a book at the top of your TBR
THE FORESHADOWING IN THE LYRICS OF NOW OR NEVER. Okay. Um, okay books. Well for the end of the year I'm being pretty lax with my TBR & all that. But, I really want to finish my reread of A Reaper at the Gates (book three in the An Ember in the Ashes series) because I really want to read the finale, A Sky Beyond the Storm. 
WAKE UP
a book that you were hesitant to read
I was very hesitant to pick up Normal People because of all the mixed reviews. But, I'm so glad I read it (and watched the show) because it really stuck with me. Is Wake Up the most stunning performance? yes. Madison Reyes is phenomenal. I'm sad that I did not find a gif that works bc THIS IS STUNNING. 
THIS BAND IS BACK
a sequel that you waited a long time for
So no wait for a sequel will compare to me waiting for the finale in the Airhead trilogy by Meg Cabot. To set the scene: it is 2009 and I just binge read Airhead and Being Nikki. I thought it was a duology and then Meg hits us with a truly shocking plot twist. I, not realizing Being Nikki had just been released go to check the release date for the next book and realize…I WOULD HAVE TO WAIT A WHOLE YEAR FOR THE FINALE. Somehow I made it through and book three was fabulous.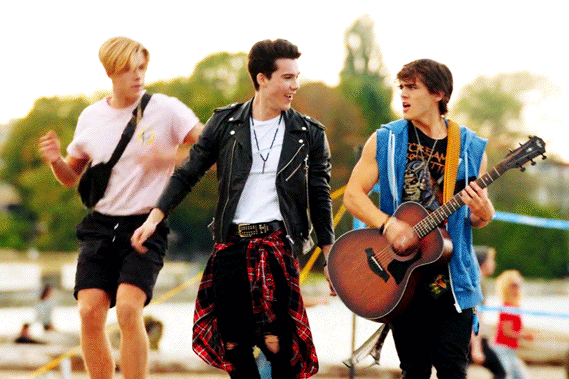 BRIGHT
a book that took you by surprise
I have a whole Blogmas post going up later this month that discusses just this so I don't want to give anything away…but I will say that as a genre, historical romance surprised me the most this year. I honestly thought I wasn't a fan of historical romance, which made no sense since I love historical fiction and I love romance, but apparently I had just been reading bad historical romances bc I now love them. I did a whole post about them here.
WOW
an action-packed book
I tend to not like action packed books, I like my books slow with rich character moments where characters have deep conversations and connect. But, The Voting Booth by Brandy Colbert takes place over the course of 24 hours so a lot happens very quickly. 
FLYING SOLO
a book with incredible friendships
I really liked the friendships in Bookish & The Beast. The trio is so wholesome and have some great moments. Check out my full review here. But, can we talk about the friendships in JULIE AND THE PHANTOMS?? So good. Julie and Flynn? The boys? Julie and the boys? So good. I love how in every fan fiction I read friendship is such a strong theme. 

I GOT THE MUSIC
a book that got you out of a slump
Romance is usually my go to when I'm in a reading slump or I will reread a favorite. I'm pretty sure Take a Hint, Dani Brown got me out of a slump of mediocre books. 
THE OTHER SIDE OF HOLLYWOOD
a book with a great ensemble of characters
I loved all the characters in This is All Your Fault by Aminah Mae Safi. I adore messy female characters and Safi writes the best ones. See my full review here. 
ALL EYES ON ME
the prettiest book in your collection
I recently got the fancy Penguin edition of Pride & Prejudice which is still in it's plastic wrap because I can't bare to take it out and risk ruining it. I don't have a photo of it, but here is a link to the listing. 
FINALLY FREE
a series you wish would never end
I am a firm believer that all series have a natural conclusion and I would rather have three amazing books than a series that is constantly being extended and ends poorly. I will say The Bergman Brothers Series by Chloe Liese will be hard to say goodbye to, but I think she has at least three or four more books so….
PERFECT HARMONY
your fave OTP
This changes daily LOL and really depends on what I'm currently reading/watching so… But, today I am going to say Rowan & Neil from Today Tonight Tomorrow because they are truly enemies to lovers excellence. Check out my review here. ALSO THE BEHIND THE SCENES FOR THIS PERFORMANCE IS AMAZING. Like I cannot believe Madison and Charlie wrote this song. No gif bc spoilers kind of?
EDGE OF GREAT
a book that is (almost) perfect
So first, watch this performance because I could literally write a paper on the eye contact that goes on in these scene between the band. UGH. My favorite performance (probably) in the show. Anywho. Meeghan answered with The Scorpio Races and I will have to agree. I adore that book (it is not for everyone I admit) but Sean and Puck's little moments remind me of Luke and Julie's moments so PARALLELS.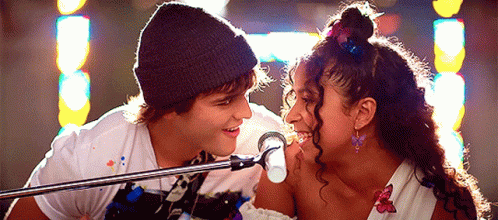 UNSAID EMILY
a book that makes you cry
Look, I was not expecting the emotional gut punch that came with Unsaid Emily bc OOOF. I am not a big book crier, but I teared up at one point during Ever After Always by Chloe Liese bc of all the feels. I cried at least twice during season one of Julie & the Phantoms though. 
YOU GOT NOTHING TO LOSE
a villain you love to hate
I am not a villain lover, it's just not really my vibe. Also I don't like Caleb even though I feel like there is so much about him we don't know and he possibly might not be the big bad villain as he is made to be in season one. But, my go to answer for this one is Victor Vale from Vicious. Dude, is not really a villain since the whole book is about the gray area of good & bad which is fantastically done. I need to reread this one stat. 
STAND TALL
a book that gave you feelings
Well many of them. But Anxious People by Fredrik Backman made me feel all the feels. I cried, I laughed, I forced my family to listen while I read parts out loud to them. A really great book. 
Well I had a little too much fun finding gifs for this post & I hope you enjoyed it! 
If you are a Julie & the Phantoms fan, feel free to do this tag (or even if you are not).
Also, if you have't watched JATP, I highly recommend you get on that!
xoxo, Tree